1.Introduction
This is Mei from the GLB Division Lakehouse Department. I will share the steps to integrate PowerBI with Azure Databricks to load data.
2. table of contents
3. Prerequisites
Azure Databricks workspace available
Having PowerBI Desktop downloaded and available is a prerequisite.
が前提条件となります。
4. Integration of Azure Databricks and PowerBI
4-1. Connect with Connector
Select Warehouse from Connect to partner in Databricks and download the connection file.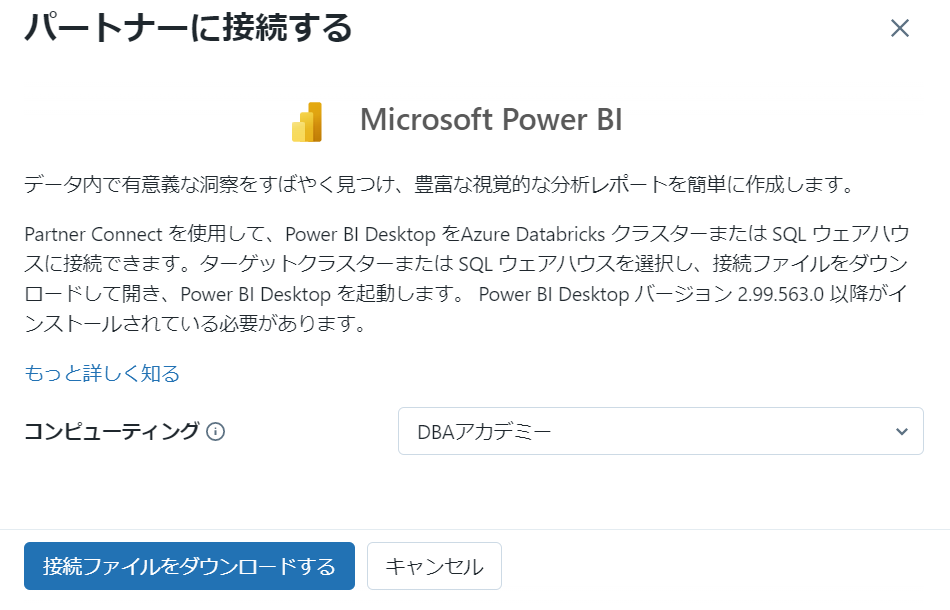 Navigator of 4.2.6 is displayed when you open the file.
4-2. Connect with Navigator
4.2.1. 4.2.1. Press Get Data ➞ Get Data and Start from File menu of PowerBI .
4.2.2. Press Azure on the right , select Azure Databricks and press Connect.
4.2.3. Check the Databricks Warehouse JDBC settings on the Connection Details tab.
4.2.4 or above Enter the Warehouse server host name, HTTP path, database to retrieve, and table.
4.2.5. Select Data Connection Mode as Import and press OK.
4.2.6. Log in to Azure Databricks.
4.2.7. Warehouse information is displayed in the navigator.
4.2.8. Select a table on the left and press the load button.
4.2.9. Data will be loaded and connected as follows.
5. Conclusion
That's all for this article. You can easily connect Azure Databricks and PowerBI like this. By combining Databricks and BI functions, you can visualize data and use it for business. I would like to continue to catch up on Databricks and BI products and send them out.
Thank you for reading until the end. We provide a wide range of support, from the introduction of a data analysis platform using Databricks to support for in-house production. If you are interested, please contact us.
We are also looking for people to work with us! We look forward to hearing from anyone who is interested in APC.
Translated by Johann