Introduction
This is Ichimura from the lakehouse department of the glb business department. I am participating in the "Data + AI SUMMIT 2023 (DAIS)" being held in San Francisco from June 26, 2023, and I feel the explosive excitement at the venue. This time, Mr. Tanigawa, president of Databricks, contributed an article about the "DATA+AI Summit 2023 EXPO" being held at the local venue.
Articles about the session at DAIS are summarized on the special site below. I would appreciate it if you could see this too.
DATA+AI Summit 2023 EXPO
This report is about EXPO.
This year's DAIS2023 had 12,000 local participants, the largest number ever, and it was extremely crowded depending on the time of day. Various booths from sponsors and Databricks are on display. Very spacious.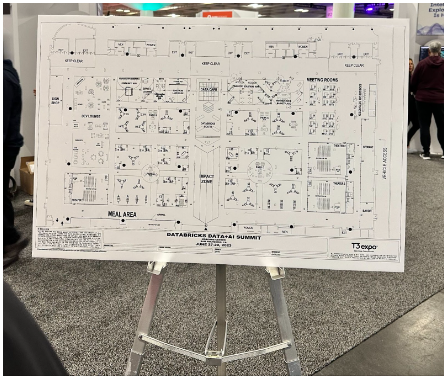 This is the view from the entrance. From the center to the back is the Databricks area.
Beyond this black and red carpet is the Databricks product demo booth.
Lakehouse platform

AI and Machine Learning

Data Streaming

Data Warehouse

Data Sharing

Data Engineering
Experts explain and answer questions on Handson about new features released for each theme through demo.
There are many sponsor booths on the left and right of this carpet, but what stood out was、 dbtやprophecy .
In addition, there were Microsoft, AWS, and many others. Each sponsor prepares various swags and actively communicates with customers and partners.
There are 6 more Databricks booths at the end. I will introduce it briefly.
On the right
1.Industory hub: Demos of AIML models were held as solutions for each industry. There are alsosolution acceleratorsfor all the following industries, and the demo is based on them.
-a.Communications, Media & Entertainment
-b. Manufacturing, Transportation and Energy
-c.Retail and Consumer Goods
-d.Financial Services
-e.Healthcare and Life Sciences
-f.Public Sector
2.Marketplace hub:This is the marketplace demo booth that became GA today. You can now share not only data, but also ALML models as notebooks.
3.Partner hub:There are two types of partners: consulting & system integrators and product partners.
The following three booths are lined up on the left side.
Professional service hub:This is an introduction booth for Databricks consulting services. Here, presentations were made on migration services, LLM's POC services, and Lakehouse's COE organization establishment and strengthening services. I will report on this separately.

Learning hub:This is an introduction booth for training. Here, you can also earn Swag by earning the Lakehouse Fundamentals Badge or Generative AI Fundamentals Badge on the spot, or participating in some activities.
Community hub:Global DatabricksOnline User Forumです。Although it is in English, QA is substantial and you can ask questions.Qiita
I hope that the atmosphere can be conveyed even a little! !
Databricks Hasegawa
Summary
In this report, Mr. Hasegawa from Databricks told us about the DATA+AI Summit 2023 EXPO. DATA+AI Summit 2023 continues to expand every year, and the number of local participants this time has increased dramatically to 12,000. AP Communications, which has a partnership with Databricks, has five local participants this time, and they are participating in keynotes and various sessions such as the latest updates and technical information. In the future, I would like to keep an eye on Databricks and related technologies so that we can further strengthen our partnership.
Conclusion
This content based on reports from members on site participating in DAIS sessions. During the DAIS period, articles related to the sessions will be posted on the special site below, so please take a look.
Translated by Johann
Thank you for your continued support!